By Dawn: Late in 2014 we were fortunate enough to find ourselves on a last-minute trip to Belgium where, just a few miles south of Brussels, we visited the memorable Musée Hergé. (Hergé – Georges Remi – wrote and illustrated Tintin)
A long-time Tintin fan, upon hearing of our destination I had bounced with excitement and demanded we visit "The Tintin Museum!" which was met with a blank look from Jed and a "The what museum?"
Pausing to remember Jed's formative years spent in Canada, I pulled up Musée Hergé's website and waited for enlightenment to strike.
The "Okaay.." he finally presented me with was more resigned then effusive, but that didn't stop me squeeing like a small child and dancing around the room.
A few days and many hours of travel later we circled Louvain-la-Neuve in search of parking which we eventually discovered on the third circuit. Approaching the walkway under which our car had driven ten minutes before was spine-tingling, although that may possibly have been from the combination of snow and wind…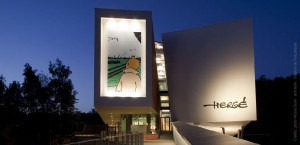 The exterior of the museum is architecturally striking, and the large expanse of glass allowed tantalising glimpses into that pinnacle of any institution of this sort – The Gift Shop.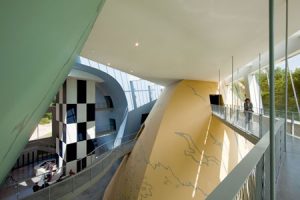 We escaped the cold wind and overcast December grey into the foyer of the museum, brightly coloured with checkered walls and gallery bridges snaking overhead. The ceiling rose 3 stories above our heads as we paid our entry fees and chased the kids who had immediately toddled over to a sculpture of Snowy and where enthusiastically attempting to climb him.
The many levels, lifts, staircases and galleries proved irresistible to our young explorers while both myself and Jed wished we had more time to absorb the information on display as our kids ran from one treasure trove to the next – the lifesized shark submersible held Older Kid (OK) rapt for a good 10 minutes while Younger Kid (YK) raced around between an oversized television and a gallery about space exploration.
The onsite cafe was decked with old covers of Le Petit Vingtième and the staff were both understanding of our small excitable diners and considerate of their somewhat harried parents, one of whom may or may not have both ordered and then dropped a very nice glass of wine on the floor.
Although we were onsite for over 2 hours, we could happily have stayed far longer and indeed would have, had closing time not come round far too soon. We didn't even have time to properly browse in The Gift Shop and left empty handed.
Dawn's rating of Musée Hergé 5/5
Jed's rating of Musée Hergé 5/5 (Blistering Barnacles!)
We look forward to returning soon, next time with Jamie!